K.K. SVC Tokyo recognizes that the environmental preservation is our social responsibility, and hereby establishes Environmental Policy, based on "Basic Policy of Health, Safety, Security and Environment."
We shall observe the environmental laws, regulations and other requirements.
We shall establish an environmental management system, endeavor to prevent all sorts of environmental pollutions, and continuously improve methods to reduce load on the environment.
We shall set our objectives and goals in consideration of influence on the environment, endeavor to achieve goals, and regularly reexamine them.
We shall contribute to reduce load on the environment through our investigation research, analysis, and assisting services of our environmentally compatible petroleum products and new energy.
We shall let all the employees be aware of Environmental Policy and enhance their consciousness on environmental issues by offering education and training appropriately.
We shall disclose Environmental Policy upon request from outsiders.
2018 January 26
General Manager, Central Research & Laboratory, R&D Strategy Division, Showa-Shell Sekiyu K.K.
General Manager, Technology Center, Shell Lubricants Japan K.K.
Representative Director, K.K. SVC Tokyo Company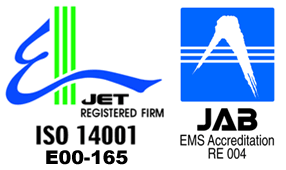 ISO14001 REGISTERD FIRM