SDS Compilation
We provide the high expertise and the latest information.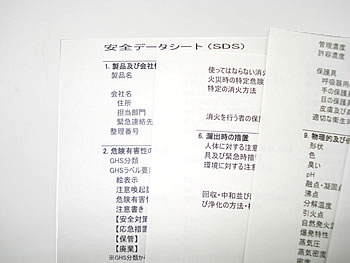 Since the introduction of recommendation of GHS (Globally Harmonized System) by the United Nation, compiling Safety Data Sheet (SDS) requires high expertise and scientific calculation for an original material and chemical compounds. On the other hand, aside from compiling SDS, duties of companies are on the increase to control chemical substances, and training employees would be, we assume, a big difficulty which many companies need to tackle.

We have high expertise on petroleum products, especially lubricant/grease products, through our management business of chemical substance for Shell Group companies and Showa Shell Sekiyu K.K. Company, and have know-how of SDS compilation. Therefore, we have decided to undertake customers' tasks to compile SDS.
Please contact us at our Business Promotion Team for business opportunities, quotation, and handling of proprietary information.